In The Temple of Elephantine
Written and directed by Raffaele Curi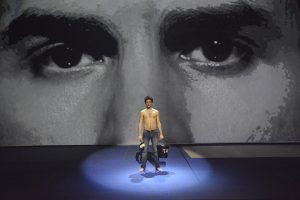 The dramaturgy of the role of women today and their historical antecedents and rituals are the
focus of " In the Temple of Elephantine ". The themes introduced by the author in the scenes of "In
the temple of Elephantine" are childbirth pain, eternal subjugation, enslavement of beauty, body
mortification and commodification, but especially the perceptible but indefinable mystery of woman.
With the participation of a cast of young actors and actresses, including several who are following
in their parents' footsteps, who reassert the attention and interest of this creative workshop for a
continuous renewal of our theater. And with the exclusive return of the artist / actress Domitian
Giordano, who starred in the films of Tarkovsky, Bertolucci, Godard and George Lucas.