Organdie
Ancient Jewish Fish Market at the Circo Massimo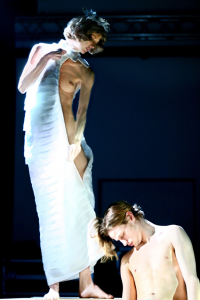 Europa is abducted by Zeus, while she is picking flowers. Europa, amongst the characters of the
XIV canto of Iliad. Europa, queen plentiful of senses in the astounding painting by Guido Reni. Old
Europa, nowadays. Anorexic, though gorgeous. In a historic phase full of contradictions and
ancestral doubts. Indigent and drug addicted. Waiting to undo a knot. Silenced by reverse of
acquiescence. Prostrated and rejected, though ready for redemption.
"One morning Gregor Samsa woke up in his bed after troubled sleep…". Are we living in a dream?
Or…? But a code (ORGANDIE CODE 116-7) will save us! With Officina Zoè, Maristella Martella,
Giorgio Ronchini e Sainkho Namtchylak.