Fantastic Stories From Niger Delta
Ancient Jewish Fish Market at the Circo Massimo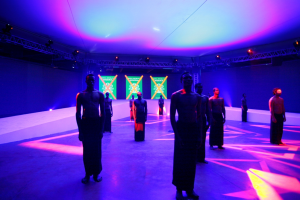 Fantastic Stories from Niger Delta is the new performance produced by Fondazione Alda Fendi –
Esperimenti.
The subject is relevant in a social and cultural way.
Africa. Miths, magic, mystery. Coping in ordinariness. Observed during a day – from dawn till dusk
– in the coves of the Delta of one of its most important rivers. The Niger.
Landscapes, dramaturgy of symbols, overlying images, emotional and critical participation.
A literate but spectacular language, a combination of cinema, theatre and visionary possibilities.